From israellycool.com

[After Ariel Sharon's stroke put him in the hospital, he was heard] making jokes, replete with double entendres.

"I'm fine," he said. "Apparently I should have taken a few days off for vacation. But we're continuing to move forward." [This is] a play on the name of his new party, Kadima, which means "forward." Some other people seemingly with a sense of humor are the people at Reuters: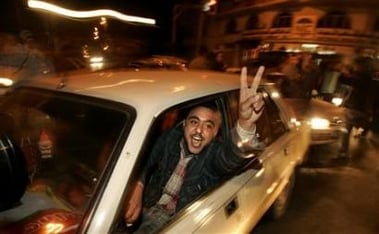 A Palestinian
youth
celebrates in Gaza after hearing that Israeli Prime Minister Ariel Sharon was moved into hospital December 18, 2005. (Suhaib Salem/Reuters)
Youth? Seems to me like another attempt to mitigate the potential damage to the neo-Palestinian cause (which these pictures might bring), by portraying the celebrants as merely misguided youth. Either that, or the neo-Palestinians age really quickly.
Here are some more pictures of the celebrations, with captions I imagine
AP
and
Reuters
would have preferred to have used:
Palestinians pray for the speedy recovery of Israeli Prime Minister Ariel Sharon in a street of downtown Gaza City after hearing news of Sharon's health condition. (AP Photo)
A Palestinian man does the dance of joy, despite the risk of impaling his groin on the edge of the car window, when hearingthat Israeli Prime Minister Ariel Sharon was making a recovery afterhaving suffered a minor stroke. (REUTERS)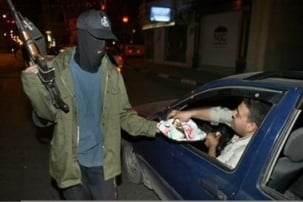 A Palestinian squeegieman hands out sweets to a customer after hearing that Israeli Prime Minister Ariel Sharon was making a recovery after having suffered a minor stroke. (AP)
(c) Rabbi Jason Miller | http://blog.rabbijason.com | Twitter: @RabbiJason | facebook.com/rabbijasonmiller